Francis Mossman passed away on 14 August 2021. He did so while in Australia, where the New Zealand national had spent the majority of his life.
Mossman was an actor, and had appeared in several television shows and films – some of which were famous and well-known throughout the world.
Like so many though, Mossman had his demons, and unfortunately, he took his own life aged just 33. He will be missed by many, with tributes flooding in for him in recent days.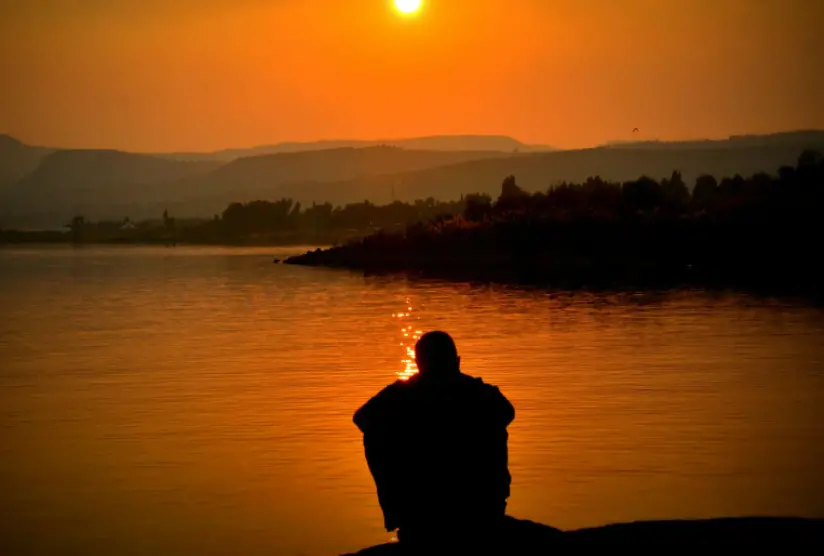 Career of Francis Mossman
Mossman was born in 1988, and he grew up in his native New Zealand. He received his first acting credits in his teenage years.
He completed both an Undergraduate and Postgraduate degree in Drama and Film, Television and Media Studies at the University of Auckland.
In his early 20's, Mossman moved to Australia in an effort to further his acting career. He was best known for his performance as Stevie Hughes in The Horizon, which was a web series available on YouTube. This LGBTQ+ themed show had many fans.
He also appeared as Vitus in Spartacus: Vengeance. This show was also watched by many. While in more recent years his acting roles were more sporadic, he still built strong career.
Mossman was an animal lover, and doted on his pets, which he frequently showed his followers on Instagram. Many of his photos involved him and his dogs.
Struggles
Like so many other people, Mossman struggled with depression and anxiety, his family said. This had also worsened due to the lockdown's associated with Covid-19.
Mossman was clearly loved by his family, and he loved them back. He frequently shared old family photos on social media, with captions commonly alluding to what were happy times.
In May 2021, tragedy hit when his pet dog Huff was hit by a car and subsequently died. Mossman referred to Huff as "the best person" that he knew, and that Huff was his "heart".
In recent social media posts, Mossman did seem to be in better spirits, with hope for the future. Just weeks before his death, he posted about how he had recently got his second inoculation for Covid-19.
The Haunting Final Post
In a haunting final post, which was posted just hours before his death, Mossman uploaded a picture to Instagram. The post was a picture of him at the age of approximately 9-12 years of age.
The caption reads "who knew this boy would endure so much pain". This sad caption gives a clue as to the mindset that Mossman was in, ahead of the final few hours of his life.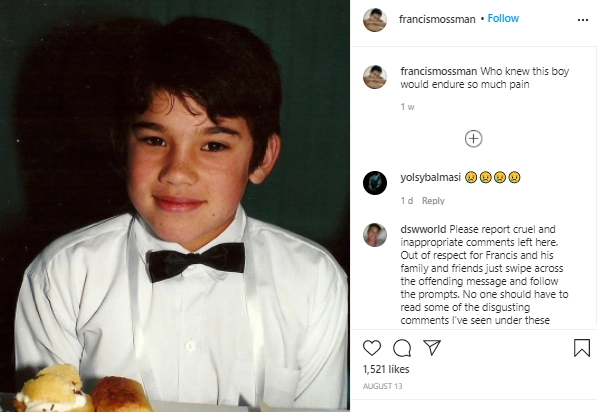 Family Statement
The Mossman family released a statement via Daily Mail Australia. In it, they mentioned that Francis had been struggling with his mental health, especially during Sydney's lockdown.
They mentioned that he had been "struggling with the resurfacing of old scars and trauma from high school". Trauma can be an incredibly difficult thing to live with and come to terms with.
Poignantly, they also mentioned that Mossman was starting a postgraduate degree in Counselling, as he wanted to help those that were suffering with mental illness.
They also praised his outlook on life, mentioning that Francis "had the most infectious smile along with the most brilliant sense of humour imaginable."
Summary
The death of Francis Mossman is deeply tragic. His last Instagram post has been flooded with comments from well-wishers, while past cast-mates have praised his ability.
And yet it is that similar sight – a person in need didn't have anyone to help in his hour of need, but after passing away, suddenly everyone comes to comment.
His family mentioned in their statement that Francis was an "overwhelmingly kind and caring" person. Judging by the reaction to his tragic death, it appears that this was a universal opinion.
---
If you have been affected by any of the content in this article, you can see our crisis resources at this link.
Disclaimer

This website should be used purely for informational purposes, and does not intend to, nor should it ever, be used as a replacement for professional medical advice.

We strive to keep all of our pages updated, and ensure that our website is full of factual and in-depth information. However, we encourage you to browse this website with care.

As a reminder, this website and all content within it cannot and should not replace the advice of a trained medical professional. You can read our full disclaimer at this link.
References