Anyone that has been in therapy can attest to the fact that a therapist will commonly ask very vague, open-ended questions. It is common to wonder why this is.
In the media, we are used to seeing rather comedic depictions of therapy sessions, with the therapist seemingly asking a range of questions that appear to have nothing to do with the topic at hand. While it isn't quite like this in reality, questions can be very vague.
But this is all done for a number of reasons. Ultimately, it helps the therapist to understand you better, and link different things you've said together. In this article, we explore this further.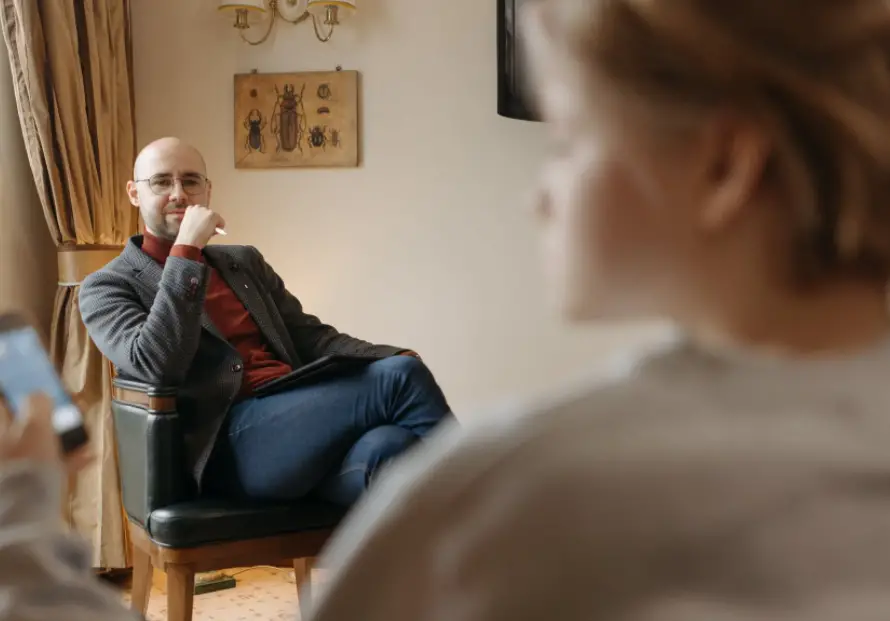 The importance of vague questions
Vague questions are important. They provide the chance for a therapist to see how a person's mind works, and to delve deeper into their psyche.
Vague questions are usually open-ended questions. Take a look at the below example, which features two questions about the same subject – which could be covered in therapy:
Do you get on well with your siblings?
Tell me about how well you get on with your siblings?
The two questions above are very similar, but notice the crucial difference: One invites a simple yes or no answer, while the other – despite being virtually the same question – invites the patient to go into detail, and provide more information.
From the answers that a patient provides, a therapist can glean a lot of information. Therefore, answers that don't offer the chance of a simple yes or no answer can be very effective and helpful for therapists.
Examples of vague questions
Vague questions typically involve questions starting with "what", "where", "why" and "how". These words can start off many useful questions. Take a look at some examples:
WHAT is it that has led you to come to therapy today?
WHEN did you start feeling this way?
WHY do you think you felt that way?
HOW does it make you feel when you hear people praise you?
As a patient, it is understandable to find some of these questions annoying or difficult. However, it is important that you answer them properly, as it will help you in the long-term.
Summary
Therapists do not mean to be intentionally vague – however, it helps them to get insightful answers that can help both patient and therapist make progress together.
By forging a strong relationship, it should allow the patient to maximise their chances of success. Improved wellbeing is always the aim of therapy.
If you need assistance in accessing therapy, you could take a look at our article on How to Access Talking Therapy For Mental Health. For an overview on therapy, see our article on Everything You Need To Know About Talking Therapy. Finally, you may like to look at our entire therapy section, as we have a lot of information available to read on there!
Disclaimer

This website should be used purely for informational purposes, and does not intend to, nor should it ever, be used as a replacement for professional medical advice.

We strive to keep all of our pages updated, and ensure that our website is full of factual and in-depth information. However, we encourage you to browse this website with care.

As a reminder, this website and all content within it cannot and should not replace the advice of a trained medical professional. You can read our full disclaimer at this link.