Ariana Grande is one of the most recognised and popular singers in the world. Despite her young age, she has achieved considerable success.
Grande has also been outspoken about her personal mental health issues, having suffered from Post-Traumatic Stress Disorder.
Background
Grande was born in America, in 1993. She had a successful acting career in her teenage years. She starred on various Nickelodeon shows, earning her many teenage fans.
As Grande aged, these fans would continue to grow with her. Grande is known for having an enormous fanbase, with her signature ponytail making her instantly recognisable.
Grande had been covering songs and then uploading them to YouTube, leading to her signing with Republic Records in 2011. Her debut album was released in 2013, and vaulted to the top of the US Billboard 200.
More albums would follow, with further chart success. This was complemented with various awards – including triumphs in the Grammy's and the American Music Awards.
Traumatic Experience
In May 2017, Ariana Grande was on her Dangerous Woman Tour. The tour was visiting numerous nations, giving Grande's fans a chance to see the singer live.
Tragically, following her concert at the Manchester Arena in the United Kingdom, a Muslim extremist detonated a bomb, causing 23 deaths, and injuring hundreds. Over half of those who lost their lives were children. The attack also led to psychological trauma for huge numbers of people.
The bombing left an indelible mark on Grande – who was left distraught by the bombing. Her legions of fans had been enjoying her music, only for some of them not to return home.
Grande, who was only 24 at the time of the concert – was later diagnosed with Post-Traumatic Stress Disorder (PTSD).
Grande later shared images from a brain scan, showing the difference between a healthy brain and her brain – which resembled that of a PTSD-suffering individual. She captioned the picture "hilarious and terrifying".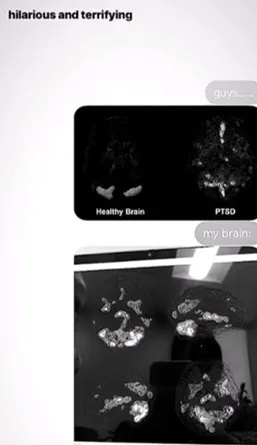 Grande later shared images from a brain scan, showing the difference between a healthy brain and her brain – which resembled that of a PTSD-suffering individual. She captioned the picture "hilarious and terrifying".
As a word of caution, brain scan experts have stated that it isn't possible to prove the existence of PTSD from a brain scan. This is important to remember.
However, given that PTSD is triggered by a traumatic event, it is highly likely that Grande is suffering from the condition.
Other problems
Aside from her diagnosis of PTSD, Grande has been outspoken about other mental health issues she has encountered. She has revealed that she has battled Anxiety for several years.
Grande also revealed she has been in therapy sessions for over a decade. Hopefully, these have helped with her diagnosis of PTSD.
Grande has also struggled in relationships. She dated fellow singer Mac Miller from 2016, before splitting in May 2018. Within a few weeks, Grande started a relationship with comedian Pete Davidson.
The two became engaged after a couple of months, before ending their relationship just four months later. Miller passed away in September 2018 – with Grande left devastated with his passing.
Miller had a history of substance abuse problems. Davidson also had issues of his own. Grande's relationship struggles have also added to her problems. But the good news is, Grande is clearly a battler.
Summary
Grande has continued her music career – headlining many concerts, winning more awards and breaking several records. Her battle with mental health will continue, and her outspoken nature regarding her problems has done a lot to raise awareness about mental health.
On a positive note, Grande returned to Manchester a few weeks after her traumatic experience to perform at a benefit concert – which ultimately raised £17M to aid the families of those affected by the bombing.
---
If you have been affected by any of the content in this article, you can see our crisis resources at this link.
Disclaimer

This website should be used purely for informational purposes, and does not intend to, nor should it ever, be used as a replacement for professional medical advice.

We strive to keep all of our pages updated, and ensure that our website is full of factual and in-depth information. However, we encourage you to browse this website with care.

As a reminder, this website and all content within it cannot and should not replace the advice of a trained medical professional. You can read our full disclaimer at this link.
References