Arts Therapy is a type of therapy that is used in the treatment of various mental health conditions. It is most frequently used in situations where a person has difficulty in expressing their thoughts and feelings by words alone.
Just like all of the other forms of treatment, there are advantages and disadvantages to Arts Therapy, as we cover in this article.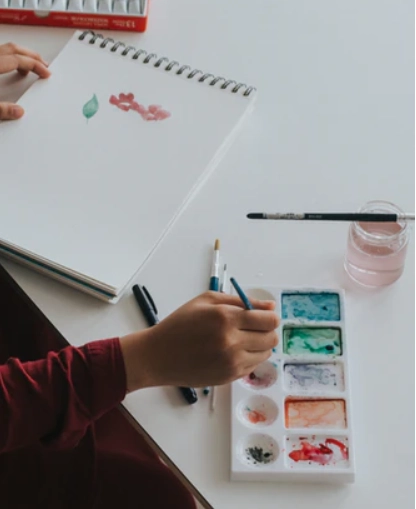 What is Arts Therapy?
Arts Therapy: Arts and creative therapy (also known as expressive arts therapy, creative arts therapy, expressive therapies etc) can help people find a way to express their thoughts and feelings in an easier way. This type of therapy involves an individual creating art, an object or piece of music, which can normally be used by a therapist to link to certain problems. Arts therapy can be a good alternative to talking therapy if needed.
Advantages of Arts Therapy
Great for those who struggle to communicate: For anyone that finds it difficult to communicate through speaking, Arts therapy offers something that can help them overcome mental distress. This therefore is ideal for when someone struggles to express their feelings or emotions through speech.
Group experience can be positive: Arts therapy often takes place in a group setting, which can help people to see they are not alone in their struggles, and interpret others' feelings through art.
Bypassing defence mechanisms: In forms of talking therapy, a person's defence mechanisms may block them from talking freely. But this is bypassed in Arts therapy, as the patient will get straight to the point by communicating through art, rather than tip-toeing around the subject.
Can be a fun experience: Many people find that Arts therapy is actually a fun experience – as it essentially involves doing something that most people enjoy, whilst getting help.
Gateway for other therapies: Arts therapy can also act as a gateway for a more appropriate type of therapy to follow on from Arts therapy. For instance, if a person shows through doing art that they are suffering with trauma, it will be a sign that a trauma-based talking therapy could help them.
Helps with a traumatic event: Many mental health conditions will have been caused, or at least influenced, by a traumatic event. Recalling a traumatic event can be difficult, but showing the event through art can be easier to express.
Disadvantages of Arts Therapy
Lack of evidence: While some evidence is positive towards the effectiveness of Arts therapy, most research suggests that Arts therapy isn't as effective as other forms of therapy [1].
Doesn't involve much talk: Ultimately, talking is the most effective way of completing therapy. Arts therapy doesn't involve as much talking, which may slow down progress.
Group work might not be suitable: As mentioned above, Arts therapy often takes place in a group setting. While this can be useful, some people will find group work isn't for them. If they have personal issues or struggle socially, group work may not be effective for them, and make them feel uncomfortable.
Arts therapy is not very intensive: For those who are in desperate need of help, Arts therapy will not typically provide quick relief. Arts therapy generally takes between weeks and months to be effective, and therefore those seeking a more intensive therapy would likely struggle with the pace of Arts therapy.
Not always relevant: Some people don't see how art or another form of Arts therapy can be relevant to their problem. Just because someone isn't good at communicating – it doesn't necessarily mean that they will be able to express themselves in a creative way.
May delay recovery: As we mentioned earlier, Arts therapy can be a gateway therapy that acts as a precursor to another form of therapy. Therefore, Arts therapy does have the potential of wasting time. Some people won't find any help from Arts therapy, meaning that it is possible they will be back to square one, but still in need of treatment.
See Also
Disclaimer

This website should be used purely for informational purposes, and does not intend to, nor should it ever, be used as a replacement for professional medical advice.

We strive to keep all of our pages updated, and ensure that our website is full of factual and in-depth information. However, we encourage you to browse this website with care.

As a reminder, this website and all content within it cannot and should not replace the advice of a trained medical professional. You can read our full disclaimer at this link.
References

[1]  Ruddy, R. & Milnes, D. (2005). Art therapy for schizophrenia or schizophrenia-like illnesses. Cochrane Database of Systematic Reviews. (Issue 1).