The therapist-patient bond is a crucial part of therapy, and therefore, the patient needs to enter therapy with the aim of getting on well with their therapist. This can help keep goals aligned, and improve the chances of therapy being a success.
But one of the main issues that many people face when starting therapy is feeling anxious of meeting their therapist. Opening up to a therapist can be very difficult, especially when the patient has never had the chance to speak about their problems before.
Due to the aforementioned importance of a strong working relationship, it is important for the patient to open up to their therapist wherever possible. This article has put together some tips with the aim of looking at tips for patients that may be anxious ahead of meeting their therapist.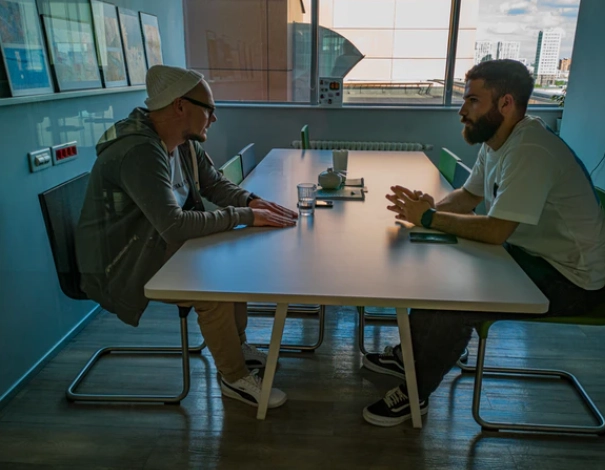 Tell your therapist about your nervousness
It is important to remember that at the end of the day – the therapist is a human too! You can inform the therapist that you are nervous, they will completely understand and be used to it.
By telling them of your feelings, the therapist will be able to take things slowly and make extra checks to make sure you're comfortable. This can start your relationship off with strong trust.
Remember that what you say won't be shared
A common worry for many people is the feeling that anything they say will be discussed widely by their therapist. This is simply not true. The therapist will take notes and will discuss your case with their supervisor – but that is all.
The only other time that a therapist would tell someone else is if they felt you were a danger to yourself or others – based on what you had told them. Otherwise, what you say will not be shared.
Because of this, you should feel comfortable in discussing your thoughts and feelings. There is no need to be wary of what you say, what you say will be kept confidential. You can read more about confidentiality in our dedicated article, which you can access by clicking here.
Keep a mood diary
One idea that many people find useful is to keep a mood diary. This is essentially a chance for you to make regular entries into a diary about how your mental health has been. Maybe you would give your moods a score out of 10 each day.
You can then show this to the therapist, and it can make it easier to talk about your moods and feelings when you have them written down in front of you. This can help make it easier to discuss any issues.
Consider group therapy
If you are really struggling to open up to a therapist – maybe consider group therapy? Group therapy can seem rather daunting, but some people may find it easier to discuss their problems with a group of people that are in a similar position to their own.
You can read all about group therapy here. By being in a group, it will give you the opportunity to make progress as a group, share stories and help one another long in the journey of recovery.
Consider online therapy
Another alternative if you are struggling to open up to a therapist is to use online therapy. It is very appealing for many people to have the chance to speak to someone over a screen rather than in-person. You can read all about online therapy here, and also see the advantages and disadvantages of online therapy here.
Online therapy can operate in the same way, with you meeting a therapist regularly, albeit online instead of in-person. All of the normal types of therapy will be able to be offered too. For some people, this may be a more appealing option.
Change therapists if needed
While this may seem like a last resort, if you are struggling to the extent where therapy just isn't working – it might be time to consider changing your therapist. This will give you a chance to refresh things and start again with a blank slate.
If you are using the NHS, changing therapist can be difficult. The best thing to do is to be honest with your therapist and state your concerns. A change should be able to be made. If you are using the private sector, then changing therapists is simple.
Summary
It can always seem daunting to start therapy. However, there are ways of easing your apprehension ahead of starting therapy. The better your relationship with your therapist, the more likely therapy is to work.
If you are wondering about whether to go for private or NHS therapy, we have an article on this here. If you want more information about therapy, then read Everything You Need To Know About Talking Therapy. We also have a huge range of articles on our Therapy section.
Disclaimer

This website should be used purely for informational purposes, and does not intend to, nor should it ever, be used as a replacement for professional medical advice.

We strive to keep all of our pages updated, and ensure that our website is full of factual and in-depth information. However, we encourage you to browse this website with care.

As a reminder, this website and all content within it cannot and should not replace the advice of a trained medical professional. You can read our full disclaimer at this link.